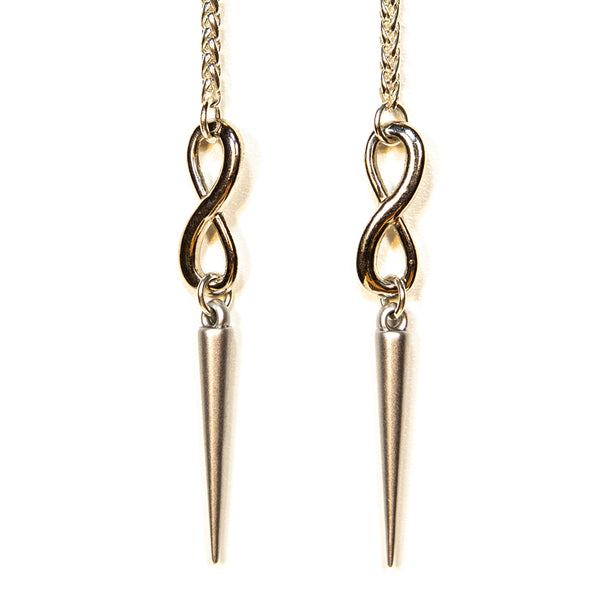 be GROUNDED Infinity & Spikes in Bright Silver Facechain
Your Affirmation | "I AM GROUNDED"
Description | "be GROUNDED" design braided facechain in bright silver with infinity charms and spikes on the ends. Also available in antique brass, antique copper, gunmetal and matte black chains.
Ipek's Intention | "be GROUNDED" series is designed with my intention for you to be mindful and centered always maintaining awareness of your spirit and your connection to Mother Earth.
~About the Charms~
Limitless | Boundless | Love
The infinity symbol looks like a sideways 8. In mathematics, the infinity symbol represents the concept of a number that goes on indefinitely, like pi 3.141592653. When used to describe feelings, space or any other concept, it means limitless and boundless. The infinity symbol brings forward never ending possibilities to our lives throughout eternity. It has also become popular indicating unconditional, unstoppable love.
Learn more about Symbols & Their Meanings. 
Designs, photos and listing details belong to Ipek Design and are protected by U.S. copyright laws.
How to Wear Your Facechain
Facechains are made to be worn across the face, resting on the nose and around the top of the ears. The chain measures at about 20 inches in length. The charms vary in size.
Facechains may also be worn as a lariat (pronounced lar-ee-uht). A lariat is a 19th century Spanish style necklace without a clasp. To wear your facechain as a lariat, drape the chain around your neck, cross and loop the ends twice as if making a double knot. The lariat can be worn in the front, similar to a necklace or down your back.
---