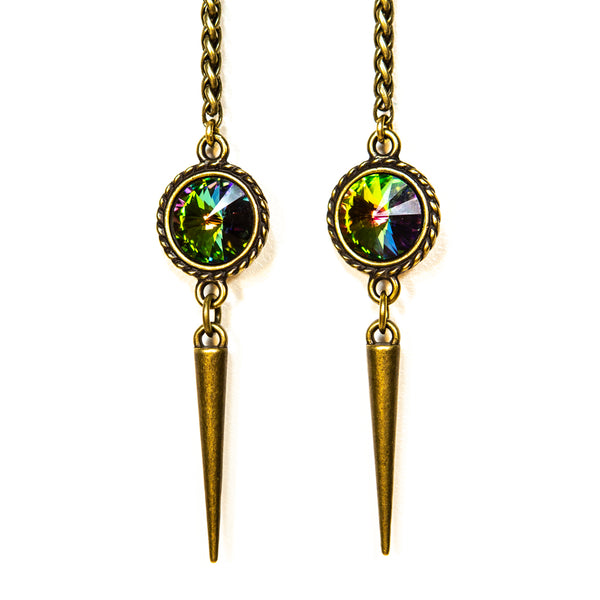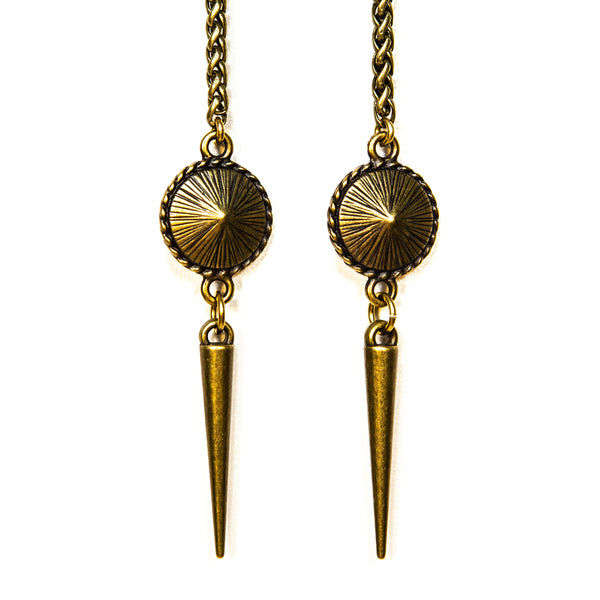 be EXTRAORDINARY Multi Green Crystals & Spikes in Antique Brass Facechain
Your Affirmation | "I AM EXTRAORDINARY"
Description | "be EXTRAORDINARY" design braided facechain in antique brass with multi green AB Swarovski crystals and spike charms on the ends.
Ipek's Intention | "be EXTRAORDINARY" series is designed with my intention for you to allow your inner wisdom to flow through you aligning with your natural state of infinite possibilities and boundless power.
About Swarovski Crystals | Swarovski crystals are made of the highest quality materials and are considered to be some of the finest crystals today. The century-old name is an Austrian crystal manufacturer specializing in machine-cut crystals which boast highest degree of precision and luxury worldwide.
In 1892, Daniel Swarovski, son of a glass cutter in Austria, invented and patented a revolutionary electric cutting machine, using hydro-electricity, that was used in the production of crystal glass. His new technology allowed crystals to be cut more precisely than by hand resulting in high-quality lead glass crystals using quartz, sand and other minerals. Swarovski's patented cutting machine is so powerful and precise it creates a high refractive index in the crystals with approximately 100 facets to mirror and bend light in various directions. 
In the early 1960s, Swarovski developed the famous Aurora Borealis (AB) crystal with Christian Dior, adding an explosion of rainbow sparkles to the surface of the crystal. The AB crystals look multi-dimensional and some have an iridescent metallic coating.
For five generations, the Swarovski family has continued the tradition of making the most recognized crystals out of their factory in Austria. The exact proportions of these raw materials has remained a company secret.
What Makes Swarovski Crystals Special | Superior production, materials, cutting and polishing are what set Swarovski crystals apart from other glass works. According to Swarovski, "Cutting hard materials such as crystals and gems, in such a way that they have a hundred identical facets in several directions, is a very complicated task. Each direction of the reflected light must first be calculated by a computer simulated 3D model, then optimized and finally converted into control programs for complex machinery." This specialized manufacturing process ensures the highest degree of precision producing brilliant crystals.
How to Care for Swarovski Crystals | Swarovski crystal jewelry should be treated the same as fine jewelry. Avoid exposing the crystals to water or harsh chemicals. Always remove it prior to swimming and wear after applying makeup and lotions to skin. Mild soap, water, and a soft cloth should be used for cleaning if necessary. When possible, store Swarovski crystal jewelry in its original packaging (preferably in an airtight bag).
Designs, photos and listing details belong to Ipek Design and are protected by U.S. copyright laws.
How to Wear Your Facechain
Facechains are made to be worn across the face, resting on the nose and around the top of the ears. The chain measures at about 20 inches in length. The charms vary in size.
Facechains may also be worn as a lariat (pronounced lar-ee-uht). A lariat is a 19th century Spanish style necklace without a clasp. To wear your facechain as a lariat, drape the chain around your neck, cross and loop the ends twice as if making a double knot. The lariat can be worn in the front, similar to a necklace or down your back.